Papal decree reforms Vatican child abuse laws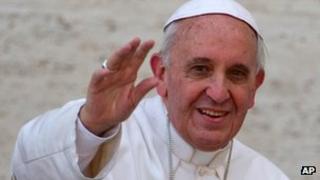 Pope Francis has strengthened laws on child abuse that apply to clerics and lay people working in the Vatican.
The papal decree broadens the definition on crimes against minors to include sexual abuse of children.
Earlier this year, Pope Francis said that dealing with sex abuse was vital to the Church's credibility.
The decree also increases the Vatican's international co-operation in combating crimes, and raises penalties for those who leak official papers.
The BBC's David Willey in Rome says Pope Francis's order continues a process started by his predecessor Benedict XVI, aimed at bringing the Vatican into line with modern international norms.
The Vatican's legal system closely follows that of Italy, but given the special nature of the city state set up in 1929, there has until now been more emphasis on legal exemptions rather than on law enforcement, our correspondents adds.
The updated legislation covers more than 5,000 clergy and lay people who live and work in the Vatican - and is different from the canon law which covers the universal Catholic Church.
What the butler leaked
Under the changes, child prostitution, sexual violence, sexual acts with children and indecent images of children will be included in a broader definition of the category of "crimes against minors".
On Wednesday the UN Committee on the Rights of the Child asked the Vatican to disclose details of thousands of cases of child abuse committed by members of the clergy.
The latest papal decree says the Vatican wants to review its commitment to international conventions against crimes such as money-laundering and financing terrorism.
The reforms extend the criminal liability of Vatican officials, making it possible to indict them even for crimes committed outside the city state.
Last month Pope Francis set up a commission to review the affairs of the Vatican Bank, which has been hit by long-standing allegations of corruption and money laundering.
The new laws - which come into effect in September - also increase punishment for anyone stealing secret papers.
This was a direct consequence of a scandal that erupted last year, when former Pope Benedict's butler, Paolo Gabriele, published confidential documents from Vatican offices alleging widespread corruption and mismanagement, our correspondent adds. s