Dublin man jailed for killing journalist Eugene Moloney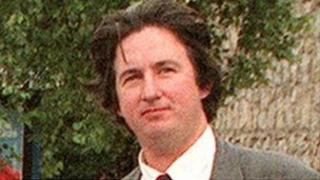 A man who killed Irish journalist Eugene Moloney in Dublin has been sent to prison for five-and-a-half years.
Gary Burch, 21, of Kennington Close, Templeogue, County Dublin, pleaded guilty to the unlawful killing on Camden Street on 24 June 2012.
The last two years of the sentence was suspended.
Mr Moloney, originally from County Donegal, began his career at the Irish News in Belfast before moving to the Irish Independent in Dublin.
During his time at the Irish News he reported through some of the worst days of the Troubles in the 1970s and 1980s.
Dublin Circuit Criminal Court heard Burch had drunk ten bottles of beer and a couple of shots when he punched Mr Moloney in the head.
After the verdict Mr Moloney's brother urged an overhaul of prison sentences for violent attacks.
Sean Moloney said society needed to look at sentences given for unprovoked street attacks, while parents needed to check their attitude to children's behaviour.
"It can't go on. It's neither fair nor right," he said.
"We came here today to get justice for Eugene and the judge did her very best. She was clearly moved.
"When you looked at the other family you realise just what a sorry day it is for both families. Insofar as no amount of justice will bring our brother back, the other man's life is ruined."