EU's Barroso in 'scapegoat' spat with France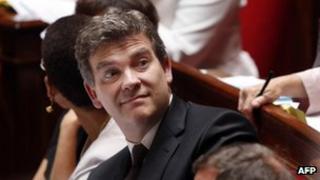 The European Commission has accused some French politicians of using the EU as a "scapegoat", in a row over economic policy.
The Commission, which drafts EU laws, was responding to French Industry Minister Arnaud Montebourg, who said Commission president Jose Manuel Barroso was fuelling nationalism.
Relations have been tense since France insisted that cultural subsidies should be excluded from EU-US trade talks.
France has long been wary of EU powers.
France's Socialist government wants the EU to do more to encourage economic growth, arguing that too much austerity has exacerbated the hardship caused by the financial crisis.
In a riposte to Mr Montebourg on Monday, Mr Barroso said "some protectionists on the left use exactly the same language as the far right".
"It would be good if some politicians understood that they will not get very far by attacking Europe and trying to turn the European Commission into a scapegoat for their difficulties," he told a news conference.
'Somebody else's fault'
Earlier the French European Commissioner, Michel Barnier, dismissed Mr Montebourg's criticism as "false and absurd".
"I've had it up to here with this and I say that with a degree of anger," said Mr Barnier, a centre-right politician in charge of EU internal market policy.
"I've had enough of hearing ministers in my country, politicians from left and right, saying that it is all somebody else's fault."
Mr Montebourg attacked Mr Barroso after the far-right National Front made gains in a by-election on Sunday in the southern town of Villeneuve-sur-Lot.
He described Mr Barroso as "the fuel for the National Front", arguing that EU policies failed to address voters' aspirations and were turning them against the 27-nation bloc.
The Villeneuve result was another blow for the French Socialists, who are struggling to tackle high unemployment and general economic malaise. Support for President Francois Hollande has slumped since his election triumph last year.
Plans to negotiate an EU-US trade deal have been complicated by France's determination to defend its "cultural exception" - the system of public subsidies that helps protect French cinema and television from the power of Hollywood.
Mr Barroso described that French stance as "reactionary" - but insisted that French politicians had misunderstood him.