Irish abortion bill is debated in Dáil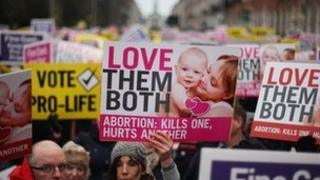 A controversial abortion bill in the Republic of Ireland is being in debated in the Dáil (Irish Parliament).
The legislation will allow abortion in limited circumstances.
It would allow terminations to be carried out where there is a threat to the life of the mother or where there is medical consensus that the expectant mother will take her own life over her pregnancy.
The vote on the Protection of Life in Pregnancy Bill is expected next week.
Health Minister James Reilly said he believed the legislation would provide legal clarity for women using the health services and for medical professionals.
He told the Dáil the current situation, where there was no legal framework, was dangerous for women who might be denied treatment to which they are entitled and for the unborn.
'Almost inevitable'
He said with no clarity, there could be a "chilling effect" for medical practitioners in providing treatment t o save a woman's life.
If the legislation was abused, he said he has the power to suspend its operation in the relevant institution and he would not be afraid to exercise that power.
Fianna Fáil's Seán Ó Fearghail has said it was "almost inevitable" that there would be a Dáil vote on the bill.
Mr Ó Fearghail, who opposed the bill, said that it was highly likely the required amount of TDs (members of parliament) needed to call a vote, which is 10, would be forthcoming between Fianna Fáil, Sinn Féin, independent and government deputies who are against the bill.
Irish Prime Minister Enda Kenny has reiterated that there will be no free vote for his party, Fine Gael.
The party is imposing the whip on TD's and senators.
Fianna Fáil is allowing its members a free vote.
Sinn Féin, which has said it is broadly in support of the proposed legislation, has said it will vote collectively.
The government has said it will not impose time constraints on parliamentary debate.
It wants the bill enacted before the Dáil summer recess next month.
At present, at least 11 women leave the Irish Republic every day for an abortion in Britain.