Irish boy struck dumb by First Lady Michelle Obama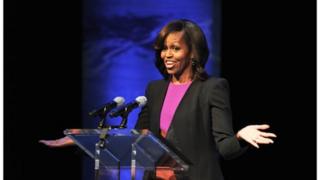 A young boy was rendered speechless when he met First Lady Michelle Obama in Dublin on Monday.
The boy, named only as Billy, was dumbstruck with shyness when he met her backstage at the Gaiety Theatre.
He was among scores of youngsters invited to the theatre for a special performance of Riverdance.
Earlier, Mrs Obama and her daughters Malia and Sasha had visited Trinity College in the Irish capital.
Rebecca Morgan, aged 11 and a pupil in Moneygall National School in County Offaly - US President Barack Obama's ancestral homeland - revealed her classmate's embarrassment.
"She is so beautiful and very tall," she said.
"She looks even prettier in real life than on TV.
'Like Hogwarts'
"A boy in my class was really embarrassed when she touched Billy's hand because he thinks she is so beautiful. He was so shy."
Before the performance of Riverdance began, Mrs Obama revealed her daughters' amazement during their visit to Trinity.
"I don't know if many of you have been there, it's like Hogwarts, as Sasha pointed out," she told the audience.
Mrs Obama was introduced by Fionnuala Kenny, wife of Irish prime minister Enda Kenny, who himself admitted that he cries every time he watches Riverdance, the Irish dance spectacular.
President Michael D Higgins' wife Sabina also attended the performance.
Mrs Obama said it was very powerful to find out that two girls born on the south side of Chicago could trace their lineage back to the 1600s in rural Ireland.
"(The Long Room) was a huge room with shelf after shelf of books, a beautiful place, and I hope that all of you aspire to go there, if not study there but just to go there and experience what it is like to be surrounded by so much history and so much power," she said.
Ancestors
They also viewed the Book of Kells, a 9th Century gospel manuscript, and were shown the birth registry of their County Offaly ancestors and old maps detailing the family's library.
Earlier on Monday, Mrs Obama addressed the Waterfront Hall in Belfast, as part of the US president's visit.
She is visiting the Republic of Ireland as the president holds talks with other world leaders at the G8 summit in Fermanagh.
The visit is the second time Mrs Obama has come to the Republic of Ireland in her role as First Lady.
In 2011, she accompanied the president on engagements in Dublin and Moneygall, where they were met by large cheering crowds.
Mr Obama has Irish ancestry and can trace his maternal great, great, great grandfather to the tiny County Offaly village.
Falmouth Kearney, the son of a Moneygall shoemaker, emigrated to the United States in 1850 at the age of 19, at the height of Ireland's Great Famine.