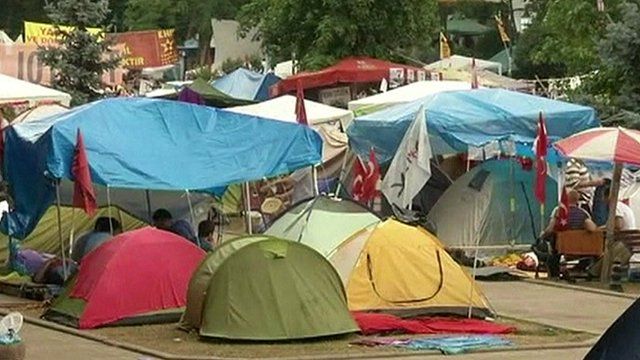 Gezi Park: Turkish protesters vow to stay put
15 June 2013 Last updated at 13:00 BST
Turkish protesters have vowed to continue occupying Istanbul's Gezi Park.
Their defiant statement came despite the prime minister's promise to halt a redevelopment plan which sparked two weeks of anti-government unrest.
Recep Tayyip Erdogan's offer was presented as a major concession - but after all-night discussions in Gezi Park, the protesters said their movement was bigger than a simple conservation protest.
Protesters Yigit Aksakoglu told BBC World News he did not know how long they would be stay in the park.
He added that most people there had not taken part in demonstrations before, "The point now is what kind of democracy we are creating in the park and with the government."