Russia cleared over death of Chechen leader Maskhadov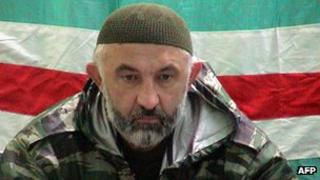 European judges have cleared Russia of blame over the death of former Chechen rebel leader Aslan Maskhadov in 2005, and said it was properly investigated.
The European Court of Human Rights said a fellow separatist rebel had shot him by accident in a bunker while they were hiding from Russian troops.
But the Strasbourg judges said Russia had violated the rights of Maskhadov's family by not returning his body.
Maskhadov led separatist rebels in a bitter war against Russia in Chechnya.
Russia condemned him as a "terrorist" and blamed him for major rebel attacks including the 2002 siege of a Moscow theatre and the Beslan school massacre in 2004.
However, he condemned the Beslan attack, and both are believed to have been the work of the more radical Chechen warlord Shamil Basayev.
In the 1990s, Maskhadov had in fact tried to negotiate a peace deal with Russia.
In April 2005, the Russian authorities said they had buried Maskhadov in a secret grave. They refused to disclose its location to his family, despite repeated appeals for his body to be sent back to Chechnya in the North Caucasus for burial.
Investigation 'adequate'
Maskhadov's body was found in the ruins of a bunker in the Chechen village of Tolstoy-Yurt after a Russian special forces operation on 8 March 2005.
At the time the circumstances of his death were not clear, though a Russian general said Russian forces had blown up the bunker.
The ruling on Thursday said "the Court held in particular that the authorities had not been the direct cause of the death of the Chechen separatist president and that the investigation into the circumstances of his death had been adequate".
The Russian forces "could not have known in advance that he and other armed insurgents had been hiding in the underground shelter before blowing up its entrance, resulting in his accidental shooting", the ruling said.
Maskhadov's family did not dispute the conclusions of a Russian forensic expert who investigated the death, the judges added.
However, they ordered Russia to pay 18,000 euros (£15,000; $23,500) in legal costs to his widow Kusama, son Anzor and daughter Fatima, finding that Russia had violated their rights concerning Maskhadov's body.
They came to the same conclusion in a second case called Sabanchiyeva and Others v Russia, in which Russia kept the bodies of 55 insurgents killed by Russian security forces in October 2005.
That operation took place in Nalchik, in the North Caucasus republic of Kabardino-Balkaria. The bodies were cremated, instead of being returned to the relatives for burial.
In the second case Russia was ordered to pay the relatives a total of 15,000 euros in costs.