Paris primary school shooting: Man kills himself
16 May 2013

From the section

Europe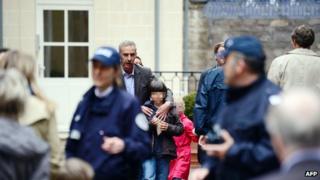 A man in his 50s has shot himself in front of a dozen children at a primary school close to the Eiffel Tower in Paris, French officials say.
He is said to have entered the school in the 7th arrondissement with a sawn-off shotgun.
The man then turned the weapon on himself and pulled the trigger in front of the children and a teacher, Paris Mayor Bertrand Delanoe said.
Police have opened an investigation into the incident.
Earlier reports put the man in his 60s and said the incident had occurred at a nursery.
Authorities said he may have had personal issues but released no further information about his identity or motives.
The shooting took place at the La Rochefoucauld school. The Catholic establishment is located in the rue Cler, a well-known market street close to the Eiffel Tower.
'It was horrible'
The incident happened shortly before noon on Thursday as children were leaving the school premises for the lunch break, police officials said.
The man forced his way into the building, pushing aside two adults.
A dozen children witnessed the shooting, the office of Mayor Delanoe said in a statement.
French Education Minister Vincent Peillon, who cut short an official visit to Brussels, said the man had no link to the school.
"It is a very painful matter because it has happened at a school, but the security inside the school isn't to blame," he told reporters on Thursday.
One of the children told French broadcaster Europe 1 she heard a gunshot and "saw all the blood".
"I saw the man fall backwards when he killed himself," she said, adding "It was horrible."
A boy who also witnessed the incident, said he was "very frightened".
"I thought there were terrorists who had guns and were coming into the school. Then I saw the man on the ground with a lot of blood."
Authorities are establishing a psychological trauma unit to provide support to children and school staff, local media report.
Resident Matthew Fraser, who lives near the school, described the area as an upmarket area of Paris that is home to many foreign embassies.
"It's a safe, quiet, upper-class area," he told the BBC. "No-one would expect this sort of thing to happen here."