Savita Halappanavar: widower's representatives to meet Irish HSE review team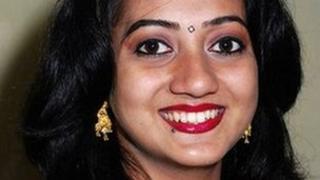 An Irish health service team reviewing the case of Savita Halappanavar, the woman who died after a miscarriage, is to meet her widower's representatives.
Mrs Halappanavar died in a hospital in Galway last October. Doctors repeatedly refused her requests for a termination.
Last month, her inquest ruled that she died due to medical misadventure but the case re-ignited the debate over the Republic's abortion legislation.
A team from the Irish Health and Safety Executive (HSE) is examining the case.
A draft report of the the HSE review was presented to her widower, Praveen Halappanavar, before last month's inquest began.
At the time, his solicitor, Gerard O'Donnell, said the draft report had found medical staff had placed an over-emphasis on the welfare of the foetus, which was unviable, and not enough on Mrs Halappanavar's health.
Mr O'Donnell will represent the widower at the HSE meeting on Wednesday, accompanied by a family friend of the Halappanavars.
The pair will respond to the draft report and the issues that emerged during the inquest.
The meeting is due to take place at Merlin Park Hospital in Galway.
The Irish state broadcaster, RTE, said the HSE review team's final report on the Savita Halappanavar case is expected to be published within weeks.