Lenin mausoleum reopened in Moscow's Red Square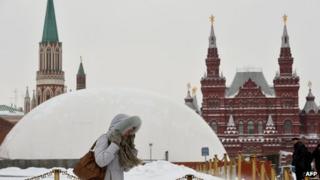 The mausoleum containing the body of communist leader Vladimir Lenin has reopened in Moscow's Red Square after months of renovation work.
The mausoleum closed in 2012 for urgent repairs to fix the building's foundations.
Lenin's embalmed body has been been on display for almost 90 years, following his death in 1924.
A recent poll suggested that more than half of Russians wanted Lenin's body removed from display and laid to rest.
The red granite tomb, one of Russia's top tourist attractions, was built on the site of a former moat around the Kremlin.
It had suffered water damage to its foundations and was shut for for the first time in its history so the foundations could be reinforced.
Strict rules
While being repaired the building was covered with a huge inflatable dome.
There are strict rules for those visiting, the BBC's Steve Rosenberg reports from Moscow. Visitors are not allowed to speak, they cannot take in cameras and they must keep moving around the glass sarcophagus.
Russian President Vladimir Putin has previously said it should be up to the people to decide what happens to Lenin's body.
"People from the Soviet Union - we of course can't imagine Red Square without the mausoleum," Moscow school teacher Ekaterina told the Reuters news agency.
"But from the point of view of Christianity - the man should have been buried, and indeed there are many questions on this subject, and of course it's difficult to answer how this should be done exactly."