EU strikes deal on extra 2013 budget funds
14 May 2013

From the section

Europe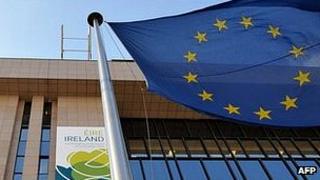 An extra 7.3bn euros (£6.2bn; $9.5bn) is due to be added to the EU's budget for 2013 under a compromise reached between member states in Brussels.
The European Council agreed the figure after the UK objected to the European Commission's original request for 11.2bn euros to settle unpaid bills.
The Council said it understood the pressures on national budgets.
Britain and several others still reject the extra funding, an EU source told the BBC.
Nonetheless, under the qualified majority voting system, the Council has gathered enough support to ensure the extra funding - known as an "amending budget" - will be passed when it holds a formal vote in a few weeks' time.
The Council has also allowed room for a further amending budget later in the year.
The Commission's request for extra funds was backed by the European Parliament, which tied it to the EU's multi-year budget for 2014-2020.
MEPs said the amending budget must be agreed by the governments before they backed a 3.3% cut in the multi-year budget, which governments approved in February.
'All necessary steps'
The 2013 budget was agreed in December. It was set at 132.8bn euros - a 2.4% increase on the 2012 budget.
The 7.3bn euros, described as the minimum extra funds required in 2013, will be spent on "measures to support economic growth, create jobs and tackle unemployment", especially among young people, the Council said in a statement.
In October, the Commission will be asked to update the Council on its payments situation and present a follow-up request for extra budget funds, if necessary.
"The Council is... aware that the level of payment appropriations now agreed upon may not be sufficient for 2013," the Council said.
"It will examine carefully the evolution of the budget throughout the year and commits to take all necessary additional steps to ensure that the Union's obligations are honoured."
According to the BBC's source in Brussels, the British Government said it could not support the amending budget.
The Netherlands, Sweden, Finland and Denmark also indicated they would not back the extra funds, the source added.
UK Prime Minister David Cameron also played a key role in pushing for the 3.3% cut to the multi-year budget.