Giulio Andreotti: Pre-Berlusconi titan
6 May 2013

From the section

Europe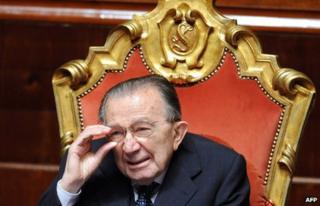 Giulio Andreotti was yesterday's man.
Yet his passing has unleashed a tsunami of political memories dating back to the days when Italy was emerging from the destruction of World War II and laying the foundation of its economic boom of more than half a century ago.
It has also refreshed memories of inadmissible links between the Sicilian Mafia and Roman politics.
Andreotti belonged to a pre-Berlusconi Catholic political world that disappeared with the implosion of the former ruling party, the Christian Democrats, in a cloud of corruption scandals in 1992.
'External cardinal'
There will be no state funeral for Italy's best known post-World War II politician. Just a private family requiem in the church built originally by and for the wealthy Florentine bankers and merchants who used to trade in Rome in the 16th Century.
The church stands across the road from the apartment where Andreotti used to live by the River Tiber.
Until his health declined seriously a year or two ago, the fervently Catholic senator for life, nicknamed "Beelzebub" on account of his Machiavellian diplomatic skills, used to attend early morning mass every day and take communion at San Giovanni dei Fiorentini.
For decades Andreotti was, surprisingly, both an ordinary parishioner at San Giovanni, and a regular VIP visitor to the Pope and his cardinals at the Vatican on the other side of the river.
His very first government appointment as cabinet secretary - the youngest on record - was personally approved by Pope Pius XII in 1947.
He owed his political career to a chance meeting in the Vatican Library with Italy's first post-war Catholic leader, Alcide De Gasperi.
Later, Andreotti became the confidant of every successive pope - a sort of permanent go-between for Italian governments with the powerful international headquarters of the Catholic Church.
He was even dubbed by the media "the external cardinal".
'Mafia links'
After retirement from active politics, Andreotti was forced to fight through the courts to clear his name after facing serious charges of Mafia conspiracy, and of having protected the Sicilian mob in Rome's corridors of power.
The crime-ridden Mediterranean island of Sicily was an important Christian Democrat powerbase and source of party votes.
The murder there by the Mafia in 1992 of Salvatore Lima, a local politician with close ties to Andreotti, marked a turning point in relations between the Mafia and its reference points in Rome.
Although the former prime minister was convicted and sentenced - in another unrelated case - to 24 years imprisonment for conspiracy to murder of a scandal-mongering journalist, this verdict was later overturned on appeal.
The Appeals Court of Palermo did rule later, however, that Andreotti had had ties with Mafia gangsters before 1980. This charge lapsed under a statute of limitations.
Andreotti always insisted that his governments had cracked down heavily on Mafia crime in Sicily.
There is to be a minute's silence at all Italian sporting events this week to commemorate Andreotti, who was chairman of the Olympics organising committee which succeeded in getting Rome chosen as the venue for the 1960 Olympic Games.
The former prime minister was also a lifelong fan of the football club, AS Roma.