Con Twomey dies 10 months after Torquay car crash
5 May 2013

From the section

Europe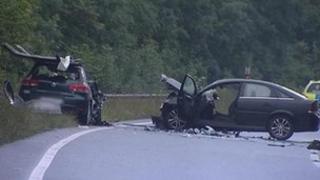 An Irishman who was critically injured in head-on car crash in Torquay, Devon, 10 months ago has died in hospital.
Con Twomey was on holiday with his pregnant wife and their 16-month-old son when the collision happened on Hamelin Way in Torquay last July.
Their son, Oisin, died and the couple were critically injured. Mr Twomey's wife, Elber, also lost her unborn baby.
The couple were transferred to hospital in the Irish Republic a month after the crash, but Mr Twomey died on Saturday.
Air ambulance
He was driving a Volkswagen Golf when it was in collision with a Vauxhall Vectra on 6 July.
The driver of the second car, Marek Wojiechowski from Poland, was arrested by police at the scene before he was taken to hospital.
However, the 26-year-old died from his injuries later that day.
The couple, who lived in Meelin in north Cork, were transferred by air ambulance from Devon back to Ireland in August.
Mr Twomey did not recover from the multiple injuries he sustained in the crash and died early on Saturday morning at Cork University Hospital.
Charitable fund
The fatal collision was referred to the UK's Independent Police Complaints Commission because it was witnessed by a police officer.
In the aftermath of the crash, a charitable fund was set up to help the two families affected.
The community in Torbay raised thousands of pounds to help pay for funerals and travel costs for relatives.