Europe: a cautious rate cut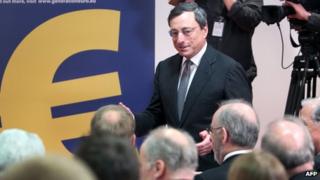 For the first time in 10 months the European Central Bank has cut its main interest rate, from 0.75% to 0.50%. It is now at an all-time low.
Some had expected a larger cut, in response to growing anxiety in Europe over growth and unemployment.
The President of the ECB, Mario Draghi, said: "labour markets remain weak... Weak economic sentiment has extended into the spring of this year". Mr Draghi expects recovery later in the year, but that has been predicted before.
Suddenly - or so it seems - everyone's priority is growth and employment. The austerity fetishists have left the stage - almost. Today it was the turn of the President of the European Council, Herman Van Rompuy, to say that "after three years of firefighting, patience with austerity is understandably wearing thin".
Only this morning the new Italian Prime Minister Enrico Letta was in Brussels. He was once again direct, as he has been since taking office. "Youth unemployment," he said, "that is the real nightmare of my country and the EU".
Official heads nodded in agreement but, at some stage, there will have to be an accounting. How did Europe end with unemployment for under 25-year-olds at 59% in Greece, 55.9% in Spain, 38.4% in Italy, 38.3% in Portugal? Why has it taken so long for official voices to speak up? Could this have been avoided or was this judged to be the price for saving the euro?
And even if youth unemployment was not the focus of attention there is the story of manufacturing. Output declined again in April. Manufacturing in France, Italy and Spain all reported a contraction in manufacturing business. As Mario Draghi said, output has declined for five separate quarters.
The first question after today's rate cut is whether it will make a difference? It boosts confidence certainly. It sends a signal that Europe is making growth its priority, but will these lower costs be passed on to the small and medium-sized companies, which are the engine room of most European economies? In the past the banks - trying to shore up their own defences - have not always passed on lower rates to customers. The ECB recognises that "tight credit conditions" remain for many companies.
If consumer and business confidence remains low then Mario Draghi made it clear that the ECB was ready to act again on rates.