Cave search in France for massacre suspect Ligonnes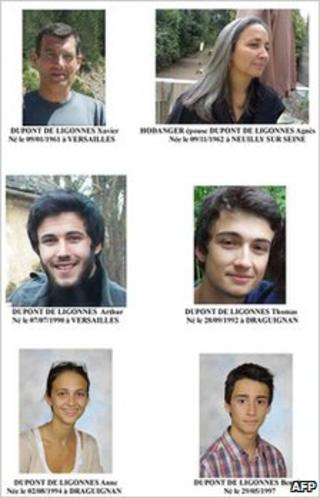 Police in France have begun searching caves in the southern Var region for a man suspected of shooting dead his wife and four children in April 2011.
A team of about 50 investigators, gendarmes and firefighters are combing the area south of Draguignan, two weeks after reported sightings.
Xavier Dupont de Ligonnes is the chief suspect in the murder of his family in the western city of Nantes.
He disappeared before the bodies were discovered at their house.
The businessman, 49 when he vanished, was last seen staying at a hotel in the Var region shortly after the killings, which went undetected for more than two weeks.
His car was found abandoned near the hotel.
An international arrest warrant was issued amid a massive search for the suspect.
Investigators have not ruled out that he may have killed himself, but no body has ever been found.
Mr de Ligonnes was facing financial ruin at the time of the murders, though there have been other theories for the crime.
The body of Agnes Dupont de Ligonnes, 49, was found along with those of her children Arthur, 21, Tomas, 18, Anne, 16 and 13-year-old Benoit under a patio at the family's townhouse in Nantes.
The victims had been drugged before being shot.
The crime shocked public opinion in France.