Beate Zschaepe: German neo-Nazi trial delayed
15 April 2013

From the section

Europe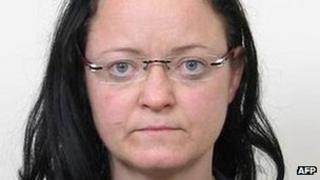 The trial of an alleged German neo-Nazi for the murders of 10 people has been delayed following a row over limits on access to Turkish journalists.
The trial of Beate Zschaepe was due to start on Wednesday but has been put back to 6 May so that media passes can be re-allocated.
Turkish media were furious they had no trial access, even though most of the murder victims were ethnic Turks.
Germany's constitutional court last week said the media process was flawed.
"In view of the Constitutional Court ruling... a new accreditation process is necessary," the Munich court which will hear the trial said in a statement on Monday.
Beate Zschaepe is accused of complicity in the murder of 10 people, mostly immigrants, over the course of a decade.
Prosecutors say she helped found the National Socialist Underground (NSU).
She faces life imprisonment if convicted.
The case has attracted huge attention in Germany, has prompted stinging criticism of the German security services and led to high-level resignations.