Savita Halappanavar inquest: 'Shortcomings in treatment'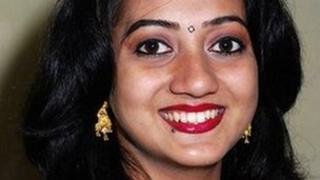 A doctor has identified shortcomings in the way Savita Halappanavar was treated in hospital as her condition deteriorated, an inquest into her death has heard.
The 31-year-old died from septicaemia four days after a miscarriage in an Irish hospital.
Dr Susan Knowles said most medical notes from the onset of sepsis were made retrospectively.
Some were added over two weeks after her death on 28 October 2012.
Savita Halappanavar, 31, was 17 weeks pregnant and miscarrying when she was admitted to University Hospital Galway on 21 October last year.
Consultant microbiologist Dr Knowles told the inquest that when Mrs Halappanavar complained of feeling cold and shivery at 04:15 GMT on 24 October, all her vital signs should have been recorded but this did not happen.
Dr Knowles said a white cell count reading from blood test results should have been checked to alert staff that her sepsis was more severe than initially thought.
The doctor said when Mrs Halappanavar was diagnosed to be clinically septic at 06:30 GMT, she was examined promptly and that intravenous antibiotic treatment followed.
This treatment should have been actively followed up afterward rounds at around 08:20.
Dr Knowles said the management of Mrs Halappanavar's condition from 13:00 was of a high standard.
Coroner Ciaran McLoughlin said that two witnesses are to be recalled to clarify their evidence.
The inquest at Galway courthouse continues.