Germany finds neo-Nazi network in jails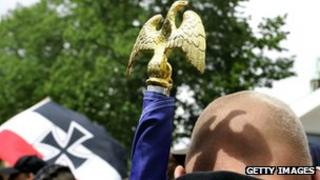 German authorities are investigating a network of neo-Nazis who used secret code to communicate from prison cells.
The network expanded from prisons in the state of Hesse, but its full extent is not yet clear, officials say.
Inmates allegedly hid their messages in letters and small adverts in magazines.
A list found in a cell search in Hesse included the name Beate Zschaepe, who will go on trial in Munich on 17 April with four other suspects. They are accused of links to racist killings.
Prosecutors say Beate Zschaepe helped found the National Socialist Underground (NSU), a group which went undetected for years. The group was blamed for the killings of nine men of Turkish or Greek origin and a German policewoman.
Two of her alleged accomplices were found dead in November 2011. The case shocked Germany, provoking stinging criticism of the security services for their failure to monitor and act against the group.
The prison searches in Hesse, central Germany, indicated neo-Nazi efforts to develop a national support structure for activists, Hesse's Justice Minister Joerg-Uwe Hahn said.
"Prisons must not become a breeding ground for far-right extremists," he said.
Eva Hoegl, a Social Democrat (SPD) politician who has followed the NSU case closely, said "now of course we need to check that information is collated and that above all it is not belittled".
One of the criticisms of undercover police in the NSU investigation was that different authorities had failed to pass on information about the neo-Nazis or take their threat seriously.
"People should not think that simply because they [activists] are in jail then they are out of the picture," Ms Hoegl said, warning that even from prison the neo-Nazis could play an active role.