Savita Halappanavar inquest: 'no retrospective interference' with medical notes
10 April 2013

From the section

Europe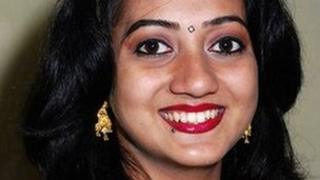 A barrister acting on behalf of the hospital has told the Savita Halappanavar inquest that there was no retrospective interference with anything written on her medical notes.
Declan Buckley said a "squiggle" referred to during Tuesday's proceedings was a bracket to provide an emphasis about four entries.
He said the chart was copied and put in the hospital safe in November 2012.
He said this was before the hospital's internal inquiry on 10 December.
On Tuesday a midwife told the Savita Halappanavar inquest that additional entries were made to her medical notes during an internal hospital inquiry.
Mrs Halappanavar died in University Hospital Galway following a miscarriage last October.
Her family claims staff refused her requests for a termination because Ireland is a "Catholic country".
Breach
A lawyer acting for Mrs Halappanavar's widower, Praveen, told the inquest there were a "flurry of retrospective notes" up to 12 November.
During the the hearing, which is being held in Galway, the consultant obstetrician who treated Mrs Halappanavar has agreed there was a "systems failure" in the care that was given to her.
Dr Katherine Astbury told the coroner that Mrs Halappanavar's vital signs were not checked every four hours after her membranes ruptured.
This was a breach of hospital policy.
Dr Astbury said the signs were checked at four hour intervals during the day but that there were longer gaps at night time.
In addition, blood tests taken on the day of Mrs Halappanavar's admission to hospital on Sunday 21 October had not been followed up.
These tests showed an elevated white cell count - one of the criteria that would indicate severe sepsis.