Italy robbers in motorway ambush on security vans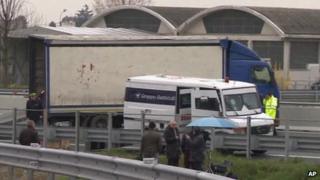 Police in Italy say armed raiders have targeted two security vans in an elaborately planned ambush on a motorway, and escaped with a huge haul of gold bars.
The gang blocked the highway between Milan and Como with a lorry.
The robbers then made it look as if the vehicle had caught fire.
It seems that the thieves wanted to trick the security van crews into believing that they were only having to stop on account of a lorry in trouble.
Once the guards had pulled up, near the town of Saronno, members of the gang appeared.
According to the Italian news agency, Ansa, the raiders were wearing the kind of bibs that traffic police might use.
And again, it seems that the intention was to make the security guards believe that they were merely in the midst of a traffic problem caused by the burning the lorry.
But then the thieves opened fire at the vans with Kalashnikov rifles. About 50 rounds are reported to have been discharged, but nobody was hurt.
'Wild West' operation
A police spokeswoman said that one of the armoured vehicles was on escort duty, and the other was carrying gold ingots and bank notes.
Its doors were forced open and its cargo transferred to three getaway cars.
The Italian media have described the heist as a paramilitary-style operation that brought something of the Wild West to the autostrada.
There were initial reports that the gang's haul was worth 10m euros (£8.5m; £13m).
But Ansa quoted the company that operates the vehicles as saying that this was an exaggeration.
"At the moment we are not able to give an exact figure as we don't know it," Marco Melatti of Gruppo Battistolli di Vicenza, told the agency.
But he suggested that the worth of the haul could be in the area of a few million euros.
The police spokeswoman said that the getaway cars had later been found abandoned.