Cypriots braced for economic turmoil after bailout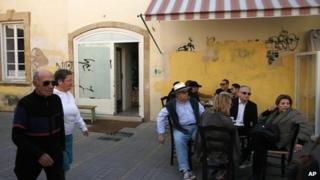 "Unemployment will go sky high at the end of this," said Chryso, as she sat in the shade of a tree sipping Cypriot coffee. "So it's really unfair on a lot of people."
On a public holiday in Nicosia, people tend to wander down to Faneromeni Square, within the walls of the old city, to don sunglasses and watch the world go by.
Chryso was reading the papers with her husband, Charalambous, digesting the news that had emerged from Brussels in the early hours.
"It's a message for the whole of the European Union," said Charalambous, referring to the deal that will radically restructure the Cypriot banking sector and impose huge losses on big investors.
"Germany controls everything," he added. "We can see that there are two zones within the euro."
It is a familiar theme on the streets of Nicosia and elsewhere - this agreement will be painful for almost everyone in Cyprus, and it is seen by many as confirmation of Europe's growing north-south divide.
'Walk away'
Cypriots are now bracing themselves for economic turmoil and a long haul to recovery. It has stretched enthusiasm for the European Union to the limit.
"We may disagree with many of their decisions," says the pro-European former president, George Vassiliou. "But we must never forget our mistakes either."
Mr Vassiliou has argued over the past week that any deal with the eurozone must help preserve Cypriot banks. So has it saved the banking sector or destroyed it?
"It has destroyed part of it, an important part," he concedes.
"They said the banking sector was too big and had to be reduced by 40%. But they never said it should be done within 24 hours."
Mr Vassiliou insists that Cyprus still belongs in the euro, and that it will recover.
But other influential voices are more sceptical.
"Cypriots forget things easily," says the head of the Church of Cyprus, Archbishop Chrysostomos II. "But I believe this time they should not forget this."
"In the next five to 10 years - it depends on the health of the economy - we should walk away from the eurozone."
'Different solutions'
The economy is unlikely to be healthy any time soon.
The radical restructuring of the banking sector means credit flows will dry up, and a sharp recession is forecast.
"A lot of people knew we needed to change," said Chryso, who works for a Greek shipping company, "but not like this."
"There should be different solutions other than the way it was done," she added above the constant chatter of voices.
"It's like they are destroying Cyprus."
"That's true," agreed Charalambous, who works in the banking sector himself. "But now we have to get on with what we have."
British Broadcasting Corporation

Home
Error 404 - Page not found
This might be because:
You have typed the web address incorrectly, or
the page you were looking for may have been moved, updated or deleted.
Please try the following options instead:
Use BBC search above to see if it's available elsewhere
Try one of the links at the top of the page
BBC links
BBC © The BBC is not responsible for the content of external sites. Read more.
This page is best viewed in an up-to-date web browser with style sheets (CSS) enabled. While you will be able to view the content of this page in your current browser, you will not be able to get the full visual experience. Please consider upgrading your browser software or enabling style sheets (CSS) if you are able to do so.