Boris Berezovsky: Colourful character focused on Russia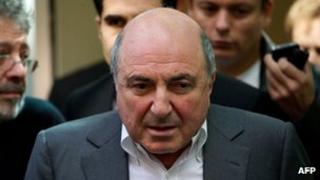 As a political figure, Boris Berezovky always seemed larger than life.
In the space of a few years in the 1990s, he went from being a clever mathematician to a powerful business tycoon and then a shadowy Kremlin power-broker and Russian media magnate.
His fortunes changed dramatically when he fell out with President Vladimir Putin.
But even after he fled abroad and successfully dodged Russian extradition charges by being granted political asylum in Britain, he still seemed to crave controversy and revelled in his self imposed status as emigre and latter-day dissident.
In interviews in London, he would willingly recall his part in putting forward Mr Putin as a suitable successor to Boris Yeltsin as Russian president in 1999.
But he was also disarmingly frank in admitting his own naivety for failing to recognize what he saw as Mr Putin's true colours.
Hounded out
He was, he would ruefully confess, not a good judge of character.
"I thought he would be good administrator for Russia, good reformist and loyal person," Mr Berezovsky would say of Mr Putin in his broken and colourful English, and add: "I did not realise he was not democrat."
He claimed the two of them first fell out over how to handle Chechnya, and then over free speech.
He insisted it was Mr Putin who had hounded him out of Russia. His scathing analysis of what was wrong with Putin's Russia almost amounted to an obsession.
And he seemed convinced that his life was constantly in danger from political enemies who would stop at nothing. He maintained he had several times been the target of assassination attempt, both in Russia and while in exile in Britain.
Recluse
So the information that has emerged about the informal interview he apparently gave to a journalist from Forbes magazine on the eve of his death is all the more extraordinary.
In it he said that he had altered his opinion on many things, his life no longer made sense and he wished he could return to Russia.
This was an unexpected turnaround for an exile who for years had claimed that to return to Russia would be too dangerous, and who openly blamed Mr Putin's government for being behind the death by radioactive poisoning of his friend Alexander Litvinenko.
Quite what might have made him change his mind is not clear.
It may have stemmed from the devastating defeat he suffered when he lost a high-profile court case in London last year.
He was visibly shocked and almost incredulous in court when the verdict was read out.
Afterwards it appears he had become something of a recluse. And friends reported that he found himself under a great deal of strain as he struggled to meet a vast bill in legal damages.
The circumstances surrounding his death still remain uncertain.
But one thing is clear: at every point in his colourful career, whether manipulating power from behind the scenes inside Russia or challenging it from emigration, Boris Berezovsky's political focus was on Russia.
Mentally, perhaps, he never really left it.