Italy election: Beppe Grillo seeks mandate to govern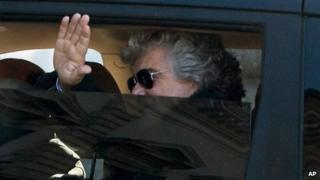 Italy's anti-establishment Five Star Movement has officially asked President Giorgio Napolitano for a mandate to form a new government.
The party led by former comedian Beppe Grillo won an unexpected 25% of the vote in elections last month and holds the balance of power.
The president has been holding talks with all the main political parties in parliament since Wednesday.
He has to ensure there is a majority in the chamber to support a new cabinet.
'Extreme responsibility'
The president held talks with Mr Grillo and the two main lawmakers of his party in parliament, Roberta Lombardi and Vito Crimi.
The party outlined a 20-point governing programme - including a referendum on whether Italy should stay in the eurozone, a new subsidy for the unemployed and more funding for public health and schools.
Mr Grillo has for months attacked President Napolitano as a symbol of what is wrong with Italian politics.
The Five Star Movement now says it is ready to perform "an act of extreme responsibility" and form a government.
Mr Grillo himself will not sit in parliament because a conviction for manslaughter, after a car crash in 1980, means that he cannot be a candidate under his own movement's rules.
The BBC's Bethany Bell in Rome says that few expect Mr Napolitano to agree to the formation of a government led by the Movement.
Our correspondent says that there is speculation that he may instead offer the mandate to Pier Luigi Bersani, whose centre-left bloc won a majority in the lower house, but failed to win control of the senate.
President Napolitano also met former Prime Minister Silvio Berlusconi on Thursday.
"We are available for a coalition government that can intervene immediately with economic measures that have broad support," Mr Berlusconi said.
So far the main parties have shown little sign of overcoming their differences. If no deal is reached, Italy faces the prospect of an early return to the polls.