Italy President Napolitano begins coalition talks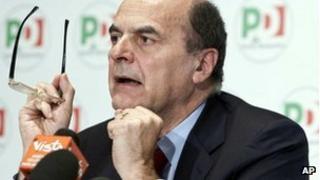 Italian President Giorgio Napolitano is consulting political leaders on forming a government after last month's inconclusive election result.
No party has been left with a majority in parliament.
Pier Luigi Bersani's centre-left bloc won a majority in the lower house but failed to win control of the Senate.
Two days of talks are scheduled but without progress more elections could be held in June.
Mr Napolitano is hoping to avoid an early poll so that Italy can press ahead with enacting economic reforms needed to reduce debt, pull the country out of recession and reduce unemployment.
The stalemate unnerved financial markets and there is concern that a failure to tackle economic problems could lead to a rise in borrowing costs and more instability for the eurozone's third largest economy.
After meeting Mr Napolitano, Senate speaker Pietro Grasso said the president appeared determined to get agreement on a government.
The president would take "all roads possible", he said.
The head of state is expected to meet Mr Bersani on Thursday - the second day of talks. Mr Bersani's bloc has 340 seats - a comfortable majority - in the Chamber of Deputies.
But he failed to garner the 158 seats needed for a majority in the Senate, which is necessary for a viable government.
Comedian
Mr Bersani, leader of the Democratic Party, has declined a coalition offer from former PM Silvio Berlusconi, whose centre-right bloc is the second strongest in parliament.
There is, however, speculation that Mr Bersani may yet be offered a mandate to govern if he can persuade Mr Napolitano he has the support of other parties.
The centre-left leader proposes reforms to tackle corruption and create jobs, possibly with the backing of comedian Beppe Grillo, whose Five Star Movement won an unexpected 25% in the election and holds the balance of power.
The president is meeting the smaller parties first, including outgoing Prime Minister Mario Monti's group, which came fourth in the poll with 10% of the vote.
As well as talks with Mr Bersani on Thursday, Mr Napolitano will consult with Mr Berlusconi and Beppe Grillo.
So far, however, the parties have shown little sign of overcoming their differences, says the BBC's Bethany Bell in Rome.