Silvio Berlusconi: Italy court orders medical checks
11 March 2013

From the section

Europe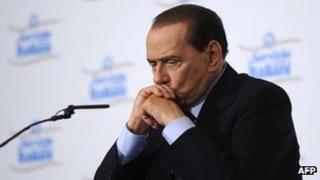 A court in Italy has ordered medical checks to be carried out on Silvio Berlusconi to verify that he cannot attend a trial due to health problems.
The 76-year-old former prime minister has been in hospital since Friday because of an eye inflammation.
He is on trial in Milan on charges of paying for sex with an underage prostitute and abuse of power.
Meanwhile, prosecutors in Naples are requesting an accelerated trial for Mr Berlusconi on corruption charges.
Italian law allows for the scrapping of preliminary hearings, which can last more than a year, when evidence of the alleged crime is considered overwhelming.
The judge has 10 days to decide whether to permit an "immediate trial".
Mr Berlusconi is accused of paying a left-wing senator 3m euros ($3.9m) to defect to his right-wing People of Freedom party (PDL) in 2006.
It weakened the government of Romano Prodi, which collapsed in 2008, and triggered elections that returned Mr Berlusconi to power.
'Judicial plot'
Last week, the billionaire was convicted of breach of confidentiality and sentenced to a year in jail over the illegal publication of a wiretapped conversation by one of his newspapers. He denied the charge and is expected to appeal.
He is currently appealing against a conviction for tax fraud over deals his firm Mediaset made to purchase TV rights to US films. A verdict is expected soon.
On Monday, Mr Berlusconi's lawyers told judges in Milan that he was not able to attend his trial for a second day because he had uveitis, an inflammation of the middle layer of the eye. He was also said to be suffering from high blood pressure.
However, prosecutors said he was exaggerating the problem to delay proceedings and the judges ordered medical checks to be made.
They had been due to present their final arguments and make their sentencing requests for the alleged crimes, which date back to 2010.
A verdict in the two-year trial had been expected later this month.
If convicted of paying 17-year-old Karima "Ruby" El Mahroug for sex, Mr Berlusconi faces up to three years in prison. He could be sentenced to a further 12 years if found guilty of abusing power by putting pressure on police to have Ms El Mahroug released from custody after she was arrested for theft. He has denied both charges.
There was further disruption to Monday's trial when members of the PDL marched into the court building to demand it be suspended.
Laura Ravetto, a senior party official, told the AFP news agency: "I think there is a judicial plot against Berlusconi."
The controversy comes weeks after the PDL did better than expected in a general election that provided no clear winner. However, the right-wing coalition looks to be on the margins of efforts to form a new government.