Italy election: President Napolitano rejects new polls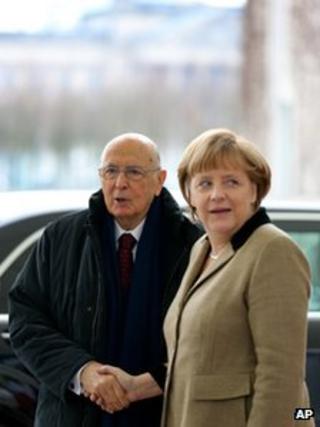 The prospect of an early repeat vote in Italy to break the February election gridlock has receded after the outgoing head of state rejected the idea.
Giorgio Napolitano, who as president holds the power to dissolve parliament, said he doubted his successor in the post would favour the idea either.
Mr Napolitano must stand down as president in mid-May.
The three main political forces are sharply divided after none managed to win an outright majority.
Uncertainty over the future management of the eurozone's third-biggest economy has caused concern among Italy's partners and investor confidence has been shaken.
A protest movement led by a former comedian, Beppe Grillo, surged virtually from nowhere to take a quarter of the vote, handicapping the traditional alliances on the right and left.
The centre-left bloc led by Pier Luigi Bersani won a majority in the lower house but not in the equally important upper chamber.
It is expected to attempt to form a government after the new parliament meets, some time within the next fortnight.
Minority hopes
"I'm not interested in a new vote," Mr Napolitano told reporters on the margins of an event in Berlin, where he gave a speech.
"I doubt that a new president will be thinking only of new elections," the former Communist politician added. "We'll have to see how to give Italy a government."
Interviewed by La Repubblica newspaper, Mr Bersani said he hoped to form a minority government based on a loose alliance.
"I am calling it a government of change, which I would take the responsibility of leading," said the Democratic Party leader.
He ruled out the possibility of an alliance with the centre-right, led by former Prime Minister Silvio Berlusconi.
"I want to spell it out clearly: the idea of a grand coalition does not exist and will never exist," he said.
"You can call it what you want, a minority government, a government of limited purpose, I don't care," said Mr Bersani.
Some of the policies Mr Bersani outlined - easing austerity measures, creating jobs, helping the poorest and cutting government costs - echo those of Mr Grillo's anti-establishment Five Star Movement (M5S).
However, Mr Grillo has ruled out any deal with Mr Bersani, whom he has mocked as a "Dead Man Talking".
Resignation call
"Bersani is a political stalker," Mr Grillo wrote on his blog.
"It's been days that he has been bothering the M5S with indecent proposals rather than resigning [the leadership of the Democratic Party], as anyone else would have done in his place."
Some analysts speculate that a leadership challenge may be mounted against Mr Bersani, who failed to capitalise on opinion polls showing much bigger support for the centre-left before the elections.
Matteo Renzi, the dynamic young mayor of Florence whom he defeated in last year's primary to select the centre-left coalition's leader, is one name being mentioned.
Meanwhile, Silvio Berlusconi, who has been dogged by corruption and sexual misconduct allegations for years, insisted he was innocent on Friday at an appeal trial in Milan against a tax fraud conviction in October.
A verdict in the case, which could see Mr Berlusconi jailed for a year and banned from public office for five years, is expected on 23 March.
This week, the centre-right leader, who is also on trial for paying for sex with an underage prostitute and abusing his powers in office, was accused of bribing a senator to change sides in parliament in 2006. He rejected the accusation.
Berlusconi left office in November 2011, facing claims of economic mismanagement as the eurozone struggled to contain Italy's debt crisis.
Italians had more than a year of technocratic government under Mario Monti before last month's elections.