Maradona appeals for Italy tax 'justice'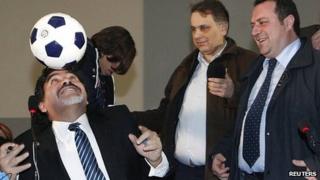 Argentine football legend Diego Maradona has appealed to Italian authorities for "justice" in a long-running tax dispute.
Speaking in the Italian city of Naples, he even offered to discuss the issue with President Giorgio Napolitano.
The former Argentina and Napoli star was ordered to pay 37.2m euros (£32m; $48.6m) in unpaid taxes in 2005.
He insists senior figures at the Napoli club at the time were responsible for the situation.
"Why do I have to pay and not them?" he said at a news conference flanked by lawyers and bodyguards.
"I'm a victim because I earned a lot but I didn't know anything about contractual questions.
"I didn't kill anyone. I'm here to seek justice."
He added: "If President Napolitano wants to speak with me, I'll explain everything to him."
Maradona, 52, played for Serie A club Napoli between 1984 and 1991, helping them to win two league titles in that time.
But he left under a cloud in the 1990s and has rarely set foot in Italy since.
During a visit in 2009, Italian police seized a diamond earring from him that was later auctioned for 25,000 euros - five times its asking price - to help pay off his tax bill.
During another visit to Naples in 2006, police seized two Rolex watches.
On Monday he was mobbed by press and fans on his arrival in Rome and then again in Naples.
He said on Tuesday he was determined to clear his name so he can return to Italy in the future with his family.
"I want to come back to Italy with my grandson to watch Napoli. I want him to see what his grandfather did here and not be remembered as a tax-dodger, which I am not," he said.