Irish B&B pair found dead in Carlow B&B have been identified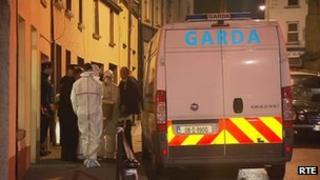 A man and a woman found shot dead in a B&B in Carlow town on Monday have been identified.
Irish police have said the pair will not be named publicly until after a post mortem examination is carried out.
The man, 54, was originally from County Offaly and the 51-year-old woman from Kildare is a mother of six, including triplets.
They had spent some time in Wexford last week before arriving in Carlow.
The pair had been socialising in a number of pubs in the town and had stayed in different accommodation in Carlow before moving to the Stonehaven B&B.
A shotgun was found on the premises on Centaur Street.
Detectives have said they are not looking for anyone else in connection with the deaths.
Post mortem examinations are scheduled to take place on Tuesday morning at Naas General Hospital in County Kildare.