Spain police arrest 45 in Madrid after protest
24 February 2013

From the section

Europe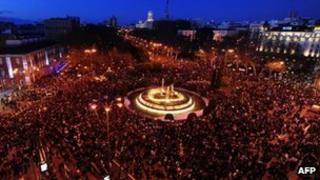 Spanish police have said they arrested 45 people, including nine minors, after a protest in Madrid against strict austerity measures.
Police said there had been disturbances after the marchers in central Madrid dispersed on Saturday evening.
The arrests took place near Atocha railway station in the city centre.
Protests in Spain have become common since the government passed a series of unpopular cuts in a bid to cut one of the eurozone's highest deficits.
Though Saturday's protest was mainly peaceful, police said they later found four firebombs in a backpack abandoned on a street.
The interior ministry said its officers then seized 22 firecrackers, five flares and a stick from two minors near Atocha station.
Some 40 people needed minor medical attention after the altercations following the demonstration, including 12 police officers.
No-one was seriously injured, officials said on Sunday.
The Spanish government is having to borrow heavily to cope with the effects of a collapse in property prices, a recession and the worst unemployment rate in the eurozone.