Horsemeat scandal: Shares fall at Irish bolognese supplier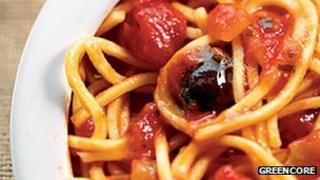 Shares have fallen in an Irish food company after it confirmed it supplied a bolognese sauce to the supermarket Asda that contained horsemeat.
Greencore made the sauce at its plant in Bristol.
Asda withdrew three other Greencore products "as a precaution" on Thursday. On Friday, shares in the firm were trading 12% lower in London.
Greencore's chief executive is Patrick Coveney, brother of Ireland's Minister for Agriculture Simon Coveney.
In a statement, Greencore said the beef was supplied to it by the ABP Food Group's Nenagh plant in County Tipperary.
"Greencore is committed to maintaining the highest standards of food safety and food traceability, and is therefore extremely concerned that the quality of one of its products may have been compromised in this way," the statement said.
"The company is participating in full with the intensive industry testing programme to examine the full supply chain in order to restore consumer confidence."
The firm is awaiting the result of tests to determine how much horsemeat was in the sauce.
ABP also owns Silvercrest Foods, whose factory in County Monaghan was one of the first whose products tested positive for horse DNA last month.
ABP has confirmed it is a supplier to Greencore, but has said it never knowingly bought or processed horsemeat.
Greencore said the revenue of the bolognese sauce represented about £0.3m of its £1.16bn turnover in its last financial year.
The discovery of horse DNA in the sauce was the first time that horse DNA had been found in a fresh product in Britain or Ireland.
Until now, it had only been found in frozen products.
Meanwhile, the results of up to one third of tests on the presence of horsemeat in processed meals in the UK are due to be released by the The Food Standards Agency (FSA).
Last month, Irish food inspectors said they had found horsemeat in beefburgers made by firms in the Irish Republic and the UK, and sold by a number of UK supermarket chains, including Tesco, Iceland, Aldi and Lidl.
Since then, a growing number of UK retailers have recalled processed beef products found to contain horse DNA.
On Friday, it emerged beefburgers containing horsemeat had been withdrawn from hospitals in Northern Ireland.
The industry-wide test results, due on Friday, were ordered by the Food Standards Agency after the revelation quantities of horsemeat had entered some beef ready meals.
Food retailers said they would have results from about 30% of their product ranges.
They said testing all processed beef ranges could take several weeks.
European food safety experts have met in Brussels to draw up plans to conduct DNA testing of beef products across the continent in the coming weeks.
It comes after the French government accused meat processing company Spanghero of knowingly selling horsemeat labelled as beef. The firm has denied the allegations.
1. Comigel: Food processor
3. Spanghero: Meat processor
2. Tavola: Factory
4. Subcontractor
5. Trader
6. Abattoirs
7. Supermarkets
French food producer makes order
Comigel HQ in Metz, north-east France, asks its subsidiary, Tavola in Luxembourg, to make food products - including beef lasagne for Findus.
Factory orders meat
The Tavola factory orders the meat from Spanghero in the south of France.
Subcontractor used
Spanghero contacts a subcontractor in Cyprus to source the meat.
Subcontractor enlists trader
The Cypriot subcontractor in turn contacts a trader in the Netherlands.
Trader orders from Romania
The trader in the Netherlands places an order for meat with abattoirs in Romania.
Abattoirs send meat to France
The meat from the abattoirs travels to Spanghero in France. However, Romania rejects claims that it was responsible for wrongly describing the horsemeat from its abattoirs as beef. Horsemeat is always labelled as such, they say. The Romanian authorities claim records show orders had been for horse carcass - easily distinguishable from beef.
Meat used to make products
Spanghero sends the meat to the Comigel subsidiary's factory in Luxembourg before the finished products are supplied to Findus and retailers across Europe, including the UK. The president of Comigel says the company was unaware the meat was coming from abroad.
Horsemeat found in Ireland and UK
Tests by Irish authorities have found equine DNA in beefburgers made by firms in the Irish Republic and the UK. Traces of horsemeat have also been found in stored meat at another plant in Ireland and one in Northern Ireland. In mainland Britain, police and officials probing alleged horsemeat mislabelling have carried out raids at a slaughterhouse in West Yorkshire and a meat firm near Aberystwyth. Three men were later arrested on suspicion of offences under the Fraud Act..