Garlic smuggler, Paul Begley, has jail term cut to two years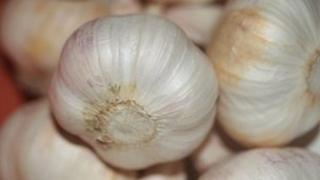 A man who was jailed for smuggling garlic, disguised as apples, has had his sentence cut to two years from six.
Paul Begley, from Rathcoole in County Dublin, admitted last year to smuggling more than 1,000 tonnes of garlic from China, labelled as apples.
The scam cost the authorities an estimated 1.6m euros (£1.3m) in taxes.
Begley was jailed for six years last March, but has successfully appealed the severity of the sentence.
Last month, the Court of Criminal Appeal set aside the six-year term, ruling it was excessive.
On Friday it imposed a new sentence of two years.
At the time of the offence, Begley was the head of Ireland's largest fruit and vegetable producers
At the original case, held in Dublin Circuit Criminal Court last year, the judge was told import duty on garlic was "inexplicably" high and can be up to 232%.