Savita Halappanavar: Draft report into death issued to those involved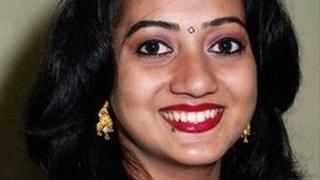 The final draft of the report into the death of Savita Halappanavar has been issued to those involved in the case to allow them to challenge or correct any inaccuracies.
Irish Minister for Health, James Reilly, said if someone mounts a legal challenge that could cause problems.
He said the inquiry team was still compiling its findings.
The 31-year-old, who was 17 weeks pregnant, died at University Hospital Galway following a miscarriage.
Fianna Fáil health spokesperson Billy Kelleher called on Mr Reilly to immediately publish the report.
"In light of the report being leaked it is essential that the minister move to publish the full report as a matter of urgency," he said.
"We cannot have a situation where an issue as sensitive and serious as this is being reported on in the media, based on a partial leaking of the document, and the family concerned and the public do not have access to the full facts."
Minister of State for Public Service Reform Brian Hayes said it was the normal course of events that when an independent report was being compiled, those who had been named in it had right to see it and have feedback into the final process.
He said it could be another week or two before the final report was delivered to the minister for health and the department of health.
Mr Hayes said it was important that the matter be brought to an end in order to see what had happened in what he described as a "dreadful" case.