Pope Benedict XVI's sudden exit leaves pilgrims in shock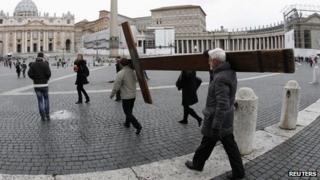 Nothing was done to prepare the Vatican or the wider world for the Pope's resignation.
No special gathering was called to make the announcement. It came at a meeting that had already been scheduled to attend to other business.
Vatican officials seemed as astonished as anyone else by the Pope's decision.
And among the pilgrims and other visitors out on St Peter's Square there was shock and disbelief.
People felt that they needed to know more.
"I thought the Pope's role was a lifetime commitment," said one man. "I fear maybe he's in bad health. I don't know."
And a woman said, "I'm very disappointed and in shock about what happened this morning - really, as a Catholic".
Seeking more news, people gathered around the large screens permanently set up on the Square where the press conference held by the Vatican's spokesman was played over and over again.
As the day wore on and the news was absorbed more fully, there was more reflection on what the Pope had stood for.
"He's an intelligent man - well educated," said one visitor to St Peter's. He said the Pope had brought a depth of knowledge and wisdom that had changed the church.
The Pope has many critics, within Catholicism and beyond. But on the day of his historic resignation - in the shadow of St Peter's Basilica - it was hard to find anybody speaking badly of him.
On the other hand, in the aftermath of the announcement there was no gathering of crowds in the Square; no sense of people wanting to come together en masse to show their support or sadness at the Pope's going.
As darkness fell there was a torrential downpour.
And by mid-evening the Square was almost completely deserted, with its wet cobbles gleaming in the rain.
The only lights on in the Vatican burned in the Papal apartment.
And a passing priest, Father Theo from Switzerland, paused just long enough under his umbrella to say that what the Pope had done took courage, and he had shown humility.