Romania rejects British 'scrounger' stereotype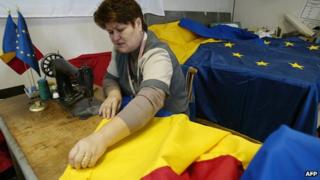 Romanian Foreign Minister Titus Corlatean is not happy with the tone of the debate surrounding Romanian and Bulgarian immigration to the UK, he has told the BBC.
Transitional controls on freedom of movement, imposed when the two countries joined the EU in 2007, expire at the end of the year - and there is pressure on the government to prevent a significant wave of migrants arriving.
"This type of debate in British society is quite surprising and we regret it," Mr Corlatean said. "It's quite enough."
He expressed frustration at reports which stereotype Romanians as criminals or scroungers, and said predictions of a flood of migrants arriving in the UK in 2014 were exaggerated.
Many Romanians working abroad, he argued, play a valuable role in the economies of other countries, including the UK. There are more than 2,000 Romanian doctors in Britain.
"They are not immigrants, they are European citizens with full rights," he added.
But Mr Corlatean played down suggestions of a diplomatic rift and said he had discussed migration issues several times with British officials, including Foreign Secretary William Hague.
"I received clear assurances that the UK will respect the free movement of Romanians and Bulgarians, and it will respect European treaties."
Already gone
There are already an estimated three million Romanians working abroad within the EU, and most observers in Bucharest argue that the vast majority of people who want to leave have already gone.
Their favoured destinations are Spain and Italy, where there are linguistic and other links, and not the UK.
But a British think-tank which campaigns for tighter immigration controls, Migration Watch, has estimated that about 50,000 people from Romania and Bulgaria will come to the UK every year until 2019, with significant consequences for housing and jobs.
In the village of Peretu, south of Bucharest and not far from the Bulgarian border, there is no evidence that people are preparing to head for the UK.
Cristian is building a new house by the main road, with money he made from working on construction sites in Spain.
"People don't really care about the restrictions [on free movement] being lifted," he said. "They care more about farming, they'd prefer to open their own business here."
"Stay cool," he added, with a smile. "No-one's going to Britain, except maybe on holiday."
Low-income work
But Romania's economic boom has stuttered and for many citizens, especially in the countryside, this is no land of opportunity.
"I'd like to work here in Romania,' said Alina, a student chatting to her friend outside a small shop. "But if there's nothing, and if I could find a serious contract abroad, then I'd go."
Official unemployment figures in Romania are actually lower than those in the UK. In contrast, when Poland joined the EU in 2004 and triggered an exodus to Britain, unemployment there was sky high.
But the statistics can be misleading. About 30% of the Romanian workforce is still dependent on agriculture, and subsistence farming barely pays the bills.
About one in seven of Peretu's population is currently working abroad.
A lot will depend on education and investment. The IT sector is highly regarded, and there are big opportunities in the energy sector. Economic development in newer member states is good news for everyone in the EU's single market.
But will it be enough to persuade Romania's educated youth to stay?
"I'm optimistic," said Costin Iorgulescu, as we sat in a cafe in the capital Bucharest.
"If I wasn't I would have left by now. I think we have a lot of opportunities compared to other countries which are more [developed]."
Second-class?
"There is a lot of energy here, because eastern Europe is full of potential," agreed Daniel Farmache, who studied at Reading University in the UK and like Costin now works for a bank back home.
"On the other hand, there is negative energy as well because of our political turmoil, and maybe this is why western Europe seems like a safe haven and the right place to go to."
Young fluent English speakers with big ambitions are a long way from the tabloid image of Romanians hoping to take advantage of the British welfare state.
So do they feel like second-class EU citizens - that they have been admitted to the club rather grudgingly?
"I think there is this element of exoticism which surrounds Romanians and Bulgarians," said Clara Volintiru, who is still studying for a PhD in London.
"But if you prove yourself, people move beyond these prejudices."
But the real problem may lie not with those who want to work, but with those who do not - and the UK is not alone in expressing concern.
The German Association of Cities warned in a recent report that municipalities are struggling to absorb the influx of migrants from Romania and Bulgaria, particularly members of the Roma (Gypsy) community.
Romanians insist that people who intend to abuse the system form a small minority of would-be migrants. There is a danger, though, that others will be tarred by the same brush.