EU budget: Another battle looms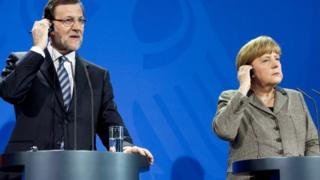 Last November, when Europe's leaders first discussed their long-term budget, French President Hollande said there was only 30bn euros (£25.9bn, $40.59bn) separating them. Some diplomatic sources in Brussels say a deal was close last year and could have been achieved.
That was then. The mood now remains cautiously optimistic but the Germans, who like to downplay expectations ahead of summits, are saying the talks will be "difficult and divisive".
UK Prime Minister David Cameron is seen as the leader of the lean brigade - those countries that believe EU spending has to be reined in at a time of austerity.
Britain is not isolated. It has allies in countries like the Netherlands, Sweden and Germany.
The EU Commission had wanted a 5% increase that would have delivered a budget of 1.033tn euros - that's more than a trillion over seven years. That was trimmed back in November to 973bn euros.
Britain and Germany and others are seeking yet further reductions. If savings of an extra 20bn euros were found then the UK would be able to claim it amounted to a cut based on the budget for 2012.
Everything is made more complicated by the fact that Britain bases its calculations on the payments it has to make, whilst others work on the basis of spending commitments - that is, maximum ceilings.
Even so, Herman Van Rompuy - the official who will chair the summit - has said that "for the first time ever - there will be a real-terms cut compared to the current budget".
Mr Cameron and German Chancellor Angela Merkel spoke on the phone at the weekend.
Afterwards, Downing Street said that both leaders agreed that the 973bn-euro proposal had to be reduced further.
Different agendas
One strange feature of this summit is that Mr Van Rompuy won't circulate his new proposal until Thursday afternoon, when all the heads of government are sitting around the table. This excludes pre-summit manoeuvring, but it could also spark arguments.
German officials were warning on Wednesday that Germany would not simply open its chequebook to solve the budget talks. But Germany will be looking for compromise and Angela Merkel is meeting on Wednesday evening with French President Francois Hollande, who has been sharply critical of more cuts.
Mr Hollande will resist any moves that undermine projects that, in his view, enhance growth.
Yet there is reason to believe French objections will be muted. Last November, France scored a significant victory.
The British, Swedish and Dutch agreed not to seek further cuts in the Common Agricultural Policy or the funding for poorer regions. That changed the atmosphere.
The British still feel agriculture and its funding needs further reform, but they will not make agricultural funding an issue at this summit.
Rebate debate
As always there are many different agendas. Some of the poorer eastern countries, which do well from EU grants, will fight to preserve those programmes.
There are several countries determined to protect their rebates or to qualify for a rebate. The Danes are looking for a significant reduction in their contribution.
The Italian Prime Minister Mario Monti believes Italy is paying too much and has turned his critical eye on the British rebate.
The British have made it clear that their rebate - worth £3bn a year - is non-negotiable.
Almost certainly the summit will demand further cuts in the cost of EU administration. Not only the British, but Dutch and German papers have been examining the pay and perks of the EU's civil servants and commissioners - some of whom earn more than their respective heads of government.
One final thought worth remembering - whatever is agreed has to go to the European Parliament and the MEPs are not just determined to flex their muscles, they are big backers of EU spending.
So even beyond the summit there may be battles ahead.