Russian police kill terror suspect in Caucasus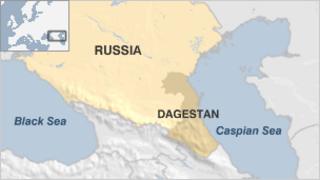 Russian police have shot dead a North Caucasus man believed to be the last suspect still wanted for involvement in a 2010 suicide bombing in Moscow.
At least 40 people were killed in the attack which targeted the city's underground network.
Gusen Magomedov was killed in a security raid in the Sergokali region of Dagestan early on Wednesday.
Magomedov was shot dead after resisting arrest, officials said.
"Until today, Gusen Magomedov was the last remaining participant directly involved in the organisation and carrying out of terrorist attacks on the Moscow metro in March, 2010," Russia's anti-terrorist committee said.
He was suspected of escorting one of the two female suicide bombers who blew themselves up in the subway during rush hour in March 2010.
Dagestan is now considered the centre of militant violence in the North Caucasus.