Gloom as EU budget talks resume in Brussels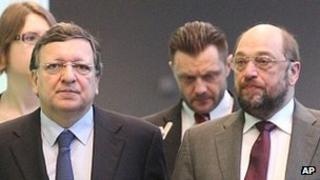 The EU is resuming tough negotiations on its multi-year budget, with leaders warning that big differences remain ahead of a Brussels summit this week.
Irish PM Enda Kenny is meeting the three EU presidents, to explore possible compromises. The Republic of Ireland currently plans the EU agenda.
France's President Francois Hollande warned that "conditions are not there yet" for a deal between the 27 nations.
A summit in November failed to produce a deal on the 2014-2020 budget.
There are very different visions about how the EU funds, totalling nearly 1tn euros (£863bn; $1.36tn), should be spent.
The EU foreign ministers and their diplomats are drafting the summit conclusions on Monday - but the continuing disagreements are likely to leave many gaps.
In a video message on Saturday about this week's summit German Chancellor Angela Merkel said: "We still cannot say today if the discussions will succeed. All I know is, the negotiations will be very difficult."
She stressed that EU funding was "extremely important" for many member states, faced with high unemployment and weak growth. Answering critics who say too much money goes into EU coffers, she said the budget is only one-fiftieth of the member states' total combined national budgets.
The member states did finally agree on the 2013 budget in December, but the multi-year budget - officially the Multi-Annual Financial Framework (MFF) - is more complex, involving long-term priorities and financial commitments.
Rival proposals
UK Prime Minister David Cameron insists on a real-terms freeze in the MFF. It would be a bigger cut - an estimated 200bn euros - than the proposal put forward by European Council President Herman Van Rompuy.
The UK has support from the Netherlands, Denmark and Sweden in wanting to reduce the budget for agriculture. But France, a big beneficiary from the Common Agricultural Policy (CAP), wants spending levels maintained.
Another thorny issue is the UK's annual rebate, which some of its EU partners want scrapped. Meanwhile, Denmark and Italy say their national contributions to the budget are too high.
Mr Van Rompuy will chair the negotiations on Thursday and Friday. His proposed budget total was below 1tn euros - lower than the draft put forward by the European Commission.
Mrs Merkel proposed a different total again, based on capping the MFF at 1% of the EU's gross national income (GNI), making a total of about 956bn euros. Her figure is higher than the UK's, but would still amount to a cut.
Ahead of the talks on Monday the President of the European Parliament, German Socialist MEP Martin Schulz, warned that the EU was "in mortal danger".
He told Germany's General Anzeiger newspaper that Mr Cameron's plan to hold a British "in-or-out" referendum on EU membership, after renegotiating the UK-EU relationship, was "pouring salt in open wounds".
Mr Schulz said the EU suffered from a lack of unity, and EU summits were often "adjourned matches".
"When people turn away from a project, from an idea, then eventually it heads towards its doom."