Sweden retrial for 'serial killer' Sture Bergwall
1 February 2013

From the section

Europe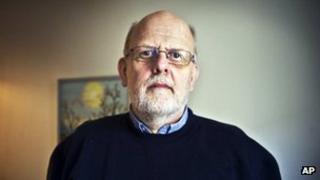 A man once considered Sweden's worst serial killer has won retrials for three murders after withdrawing confessions made in the 1990s.
Sture Bergwall retracted his confessions in 2008, saying they had been made under the influence of medication, to attract attention.
Five other murder convictions have been overturned in the past two years.
Bergwall, who formerly went under the name Thomas Quick, confessed to other murders of which he was not convicted.
On Friday, a court in northern Sweden granted the retrials, citing doubts over Bergwall's confessions.
The convicted killer, who is now 62, told AP news agency he had lied about the murders "to make myself interesting", and while under the influence of heavy medication.
His lawyer, Thomas Olsson, said that if Bergwall was cleared at the retrials, he could be released later this year.
'Scandalous process'
Bergwall was convicted in January 1996 of murdering a Dutch couple, Marinus and Janni Stegehuis, who were stabbed in Appojaure in 1984.
In November 1994, he was convicted of murdering 5-year-old Charles Zelmanovits, who disappeared in Pitea in 1976, and whose remains were uncovered in 1993.
Prosecutors will now examine whether the charges in the two cases should be dropped, at which point a district court will rule as to Bergwall's innocence or guilt.
During therapy, Bergwall admitted to more than 20 other murders committed in Sweden, Norway and Finland, often describing how he butchered his victims and, in at least one case, ate the body parts, Swedish news website The Local writes.
Critics have pointed to the lack of forensic evidence offered at his trials.
Bjorn Asplund, father of 11-year-old murder victim Johan Asplund whom Bergman was cleared last year of killing in 1980, said he had always believed Bergman was innocent.
"What we've believed all along has been verified and confirmed, that Quick didn't have anything to do with these murders," he was quoted as saying by The Local.
Mr Asplund told Swedish radio that "this farce" had gone on for many years, while all along justice officials had known there was something fundamentally wrong.