Russia's freedoms crackdown 'worst since USSR fall'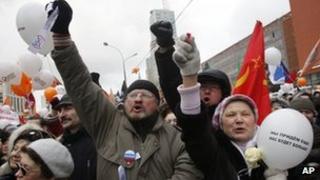 Russian President Vladimir Putin has unleashed the worst political crackdown in the country's post-Soviet era, a human rights group has said.
In a report, Human Rights Watch said Mr Putin had signed a raft of laws quashing freedoms after his return to the Kremlin for a third term in 2012.
Mr Putin's fear of mass street protests had been behind the moves, the report's authors said.
Moscow has so far made no direct comment on the document's findings.
Russian foreign ministry spokesman Alexander Lukashevich said an official statement would be issued soon.
But he added that Russia's "human rights situation is not the worst" and its critics were not "perfect" themselves, pointing to alleged human rights abuses in the US and the EU.
'Swift reversal'
The New York-based HRW issued its annual world report on Thursday, analysing key human rights issues in more than 90 countries - including Russia - in 2011-12.
Referring to the situation in Russia, the watchdog said in a statement: "The Kremlin in 2012 unleashed the worst political crackdown in Russia's post-Soviet history."
The report highlighted further curbs and fines for staging public demonstrations, a wider definition of treason and restrictions on internet content - measures seen by critics as attempts by the Kremlin to quash public dissent.
It also said that Mr Putin's return to power last May "oversaw the swift reversal of former President Dmitry Medvedev's few, timid advances on political freedoms".
Russia has seen big anti-government protests in Moscow and other major cities following the December 2011 parliamentary elections, which saw the pro-government United Russia's party retain power - although with a much reduced majority.
The opposition described the elections as fraudulent - a claim denied by the Kremlin.
A number of opposition leaders are now facing jail on charges that the opposition says are politically motivated.