Horsemeat found in some Spanish beefburgers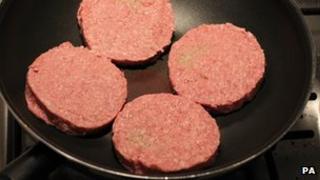 An independent Spanish consumer group has found horsemeat in some beefburgers on sale in Spain.
Horse DNA was detected in two out of 20 brands of burgers tested, the OCU group reported. The meat was not a health risk, but was mislabelled, it added.
The two brands named in the OCU report were Eroski and Alipende.
Earlier this month some burgers on sale in the UK and Republic of Ireland were also found to contain horsemeat. Irish tests suggest Poland was a source.
The Food Safety Authority of Ireland (FSAI) said there was a direct correlation between horse DNA found in burgers made by Silvercrest Foods in Ireland and horse DNA found in raw material for burgers imported from Poland.
"The FSAI has notified the Polish authorities and the matter is now with them," the statement said.
The source of the horse DNA found in the Spanish burgers is not yet clear.
In the UK-Irish case, the burgers came from two processing plants in the Republic of Ireland - Liffey Meats and Silvercrest Foods - and the Dalepak Hambleton plant in Yorkshire.
Silvercrest Foods and Dalepak both said they had never bought or traded in horse product and had launched an investigation into two continental European third-party suppliers.
Tesco and Iceland were among the retailers selling the burgers, and amid a national furore they withdrew them from sale.
In Spain, OCU said it had found the burgers tested to be of generally poor quality. OCU stressed that it sent food samples to accredited labs and followed rigorous testing procedures.
The labels on six of the 20 brands studied did not specify the percentage of beef content. And 16 of the brands contained sulphites - a legal additive which can inhibit bacteria and keep the meat looking fresh.
OCU called for clearer labelling, as it found that in one brand the sulphite level was 90% of the recommended daily allowance for children.