Ireland continues to have highest birth rate in the European Union
20 December 2012

From the section

Europe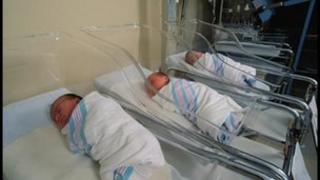 Ireland continues to have the highest birth rate in the European Union.
More than 74,000 babies were born in the Republic in 2011, a rate of 16 births per 1,000 of population.
The annual perinatal report from the ESRI (Economic and Social Research Institute) shows that a third of newborns were to single mothers.
Almost a quarter of births were to women born outside the country, compared to 16% in 2004.
The report also indicates that 40% of babies were born to first-time mothers, with an average age of 29.
Breastfeeding rates are low. Just 40% of Irish babies are breastfed, compared to more than 75% of babies born to mothers from Europe and Australia.
Almost 29% of women giving birth were aged 35 years or older, and 2% of women giving birth were aged 19 years or less.