Spain seizes former Egypt leader Hosni Mubarak's assets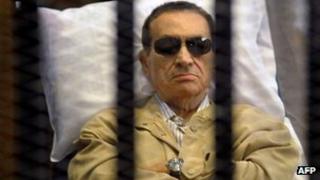 Police in Spain say they have seized assets linked to former Egyptian leader Hosni Mubarak worth some 28m euros (£23m; $34m).
They took action after the new Egyptian authorities made an international request to block the assets of 130 people associated with his rule.
Some 18.4m euros in financial products have been frozen in Spanish banks.
Other assets include properties in the capital Madrid and the resort of Marbella, and seven luxury cars.
The two buildings in Madrid's wealthy Moraleja district are worth a combined 7m euros while the seven properties in Marbella are worth more than 3m euros.
"The assets could be the proceeds of crimes such as the embezzlement of public funds, corruption or the illegal enrichment committed during his mandate," police said.
Mubarak was overthrown on 11 February last year after nearly three weeks of mass unrest in which nearly 900 people died and more than 6,000 were injured.
He was jailed for life this summer for his role in ordering the killings.
Reports that Mubarak and his inner circle had stolen tens of billions of dollars helped fuel the revolt against his rule.
Switzerland has frozen some $441m in assets linked to Mubarak.
In the UK, at least £85m ($135m) of assets have been frozen, though there are fears that some property and companies may have been overlooked.