Fears grow for Ukrainian reporter held hostage in Syria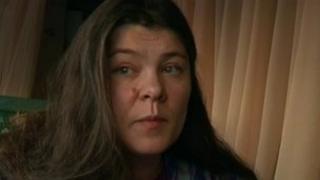 The Ukrainian government has appealed for the release of a Ukrainian journalist abducted in Syria two months ago amid reports her life is in danger.
Anhar Kochneva, who was working as a freelancer for Russian and Ukrainian media, is believed to have been kidnapped near the city of Homs.
Several videos apparently released by her captors show her asking for her kidnappers' demands to be met.
Initially they called for a ransom of $50m (£31m; 38m euros) to be paid.
However, a new video obtained by a Ukrainian commercial TV channel, Ukrayina, accuses her of being a spy and threatens to kill any citizens of Russia, Ukraine or Iran captured in Syria.
Russia and Iran are widely seen as Syria's closest remaining allies.
Kochneva's abduction was condemned by the International Federation of Journalists (IFJ) and European Federation of Journalists (EFJ).
All sides in the Syrian conflict have been accused of attacks on journalists. According to the IFJ, at least three other journalists or media staff are currently either missing or in captivity.
'Target and prey'
The Damascus-based journalist went missing in the second week of October while reportedly working on an assignment for Russian media.
She was last seen leaving the port of Tartus for a visit to Homs, which has been the scene of fierce fighting, writing in her blog: "Don't try to find me for a couple of days. Leaving."
A 15-second video posted online on 7 November showed her, wearing a headscarf and speaking in Arabic to the camera, saying she was being held in Homs and appealing for her kidnappers' demands to be met.
On 28 November, a second video, three and a half minutes long, had her repeating the appeal, this time apparently reading from a prepared statement.
She said she had been working in Syria for the Russian secret service and had been employed as an interpreter for a Russian officer.
She had, she said, taken part in a number of battles, interpreting for Russians and Syrians.
The latest video, broadcast on Wednesday by Ukrayina, was an apparent response by her captors to the Ukrainian government's appeal for her release.
It showed a group of armed, masked fighters, one of whom reads out a statement calling Kochneva a "spy".
"The embassy of Ukraine, the embassy of Russia, citizens of these countries and also Iranians from now on will be the prey and target of all our forces," he says.
"We call for releasing no Ukrainian, Russian or Iranian alive from Syria."
Oleksandr Dikusarov, spokesman for the Ukrainian foreign ministry, said Kochneva's kidnappers had "threatened to annihilate her if their demands" were not satisfied.
"We urge the Syrian authorities to take more active and effective steps aimed at releasing the abducted Ukrainian woman," he added.
Mother's appeal
Kochneva, who is known for her critical views of the Syrian opposition, told the BBC Russian service in an interview in February she had arrived in Damascus three months earlier.
She reported on the conflict for various Russian-language media outlets.
Her mother, Lyudmila Dudarenkova, made an emotional call for her daughter's release.
"Any mother who has a child will understand me," she said, speaking in the Ukrainian capital Kiev.
"Without her I won't be alive as well. I am calling on those who hold her. You have mothers and children too. Please don't commit a sin. I'm begging you to set my daughter free."
"This news is very alarming indeed and we are gravely concerned for the safety of Anhar Kochneva," said IFJ president Jim Boumelha in a statement.
"Those who are holding her will be held responsible for summary execution if she is killed."
Arne Koenig, the EFJ's president, commented on the reported ransom demand: "This blatant use of journalists as a money-spinning scheme is outrageous.
"She and her family should not be subjected to such a cruel blackmail. She should be released immediately and unharmed to be reunited with her relatives and colleagues."