Holy smoke... say your prayers right and you could ride the Irish Popemobile
26 November 2012

From the section

Europe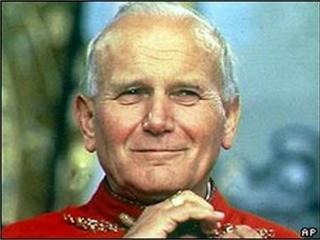 Holy smoke - the Popemobile that ferried Pope John Paul II through the thousands of people who thronged to see him in Ireland in 1979 - is up for hire.
The little yellow van that set a million faithful hearts aflutter has had a 60,000 euro makeover.
It is hitting the road again in Dublin on Monday - available to the devils as well as the angels - debs, hen parties, stag parties and others who like to rattle more than the rosary beads.
Say your prayers right and you too could sit where the much loved pope rested.
The venture is the idea of businessman Paddy Dunning.
He inherited the Popemobile when he acquired the Dublin Wax Museum some years ago.
"It was sitting behind an old curtain with no wheels on it," he explained. It seemed a shame not to resurrect it.
The chair on which Pope John Paul II sat during the 1979 visit, was kept in Paddy's mother's house in Greenhills, Dublin, while the van got a makeover, a new Mercedes chassis and enough seats to hold 15 people.
There are now 14 new seats as well as the original straight-backed chair with cushion as used by Pope John Paul II.
"My mother cleaned it and shone it and looked after it," said Paddy.
"My aunt is a nun in Rome - she has been there for over 35 years - and when she came home, she wanted to see the Pope's chair and the Popemobile.
"When she was going back, we drove her to the airport in the Popemobile with all my family inside. She was the talk of Rome."
Paddy is keen to stress that, although partygoers are welcome, the Popemobile will be given due respect.
"We will be careful and selective and respectful of what it is," he said.
"We want people to enjoy the experience and we will offer discounts for charity and sporting events."
Paddy wants the Popemobile to be a "Hopemobile" which will travel across all of Ireland celebrating the best of being Irish in recent tough economic times.
"I'd like to get a sponsor and bring the Popemobile all over Ireland and onto the Aran islands as well. I'd like to find out the stories of local heroes and get them into the Popemobile to celebrate them in their communities," he said.
At the end of the round Ireland trip, he plans to produce a book about it.
Paddy imagines that the van could also be a feature at sporting events to ferry the champions through the crowds - or families could use it to collect loved ones from the airport.
The Popemobile is up for hire from 250 euros an hour.