French PM Ayrault says 35-hour week rethink 'not taboo'
30 October 2012

From the section

Europe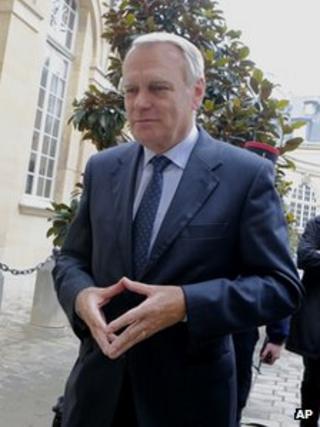 France's Prime Minister, Jean-Marc Ayrault, has suggested the 35-hour week brought in by his Socialist party in 2000 is open to review.
Asked about the possibility of restoring the 39-hour week during a meeting with newspaper readers, he said, "Why not? There is no taboo."
His remarks sparked a political storm and Mr Ayrault later appeared to play them down.
The Socialists won the May elections, promising to protect the measure.
The law means workers can be paid overtime rates if they work more than 35 hours in a week. It was meant to encourage the hiring of new staff, but critics argue it has simply increased employment costs and damaged competitiveness.
Nicolas Sarkozy, the conservative president denied re-election as president by Francois Hollande this year, had tried to dilute the law while in office.
The shorter week was the flagship reform of the previous Socialist government, which was in office during a boom at the end of the 1990s.
The Socialists are struggling to revive the economy. Mr Ayrault's comments come ahead of a government-commissioned report to be revealed on Monday on proposals to boost industrial competitiveness.
Conservative 'applause'
Mr Ayrault told readers of Le Parisien newspaper he was "not dogmatic". "What worries me is that France is stalling and we need to restart the engine, full throttle," he said.
However, shortly afterwards, Labour Minister Michel Sapin told the broadcaster RTL "the 35-hour week must not be abolished".
The prime minister then told another broadcaster, France Info: "I said nothing was taboo but this is simply not a cause the government advocates. There will be no rolling back on the 35-hour week because it is not the cause of our difficulties."
This apparent disarray within the Socialist government was seized upon by French conservatives with the right-of-centre daily Le Figaro leading its online story on Tuesday with the headline "Government cacophony over the 35-hour week".
Jean-Francois Cope, secretary-general of Mr Sarkozy's UMP party and a leading candidate for the party's presidency next month, said he "applauded" the Socialist prime minister's remarks.
"Today I learn that Jean-Marc Ayrault is reviving the programme we in the UMP put forward on the 35-hour week," he said.
Another contender for the UMP leadership, former Prime Minister Francois Fillon, said Mr Ayrault had been "cut down to size by his labour minister", and he accused the current prime minister of lacking authority.
On the left, the French Communist Party said Mr Ayrault had demonstrated "an impressive bit of back-pedalling on the 35-hour week". The left-of-centre daily Le Monde noted that the prime minister had "struck a false note".
The political row spread quickly to Twitter where the hash tag #35h has been a trending topic among French users. "Exclusive: Ayrault cuts Ayrault down to size on 35-hour week," mocked one tweeter, @blogdedroite (English: Right-wing Blog).