John Larkin 'did not consult UK' on gay adoption case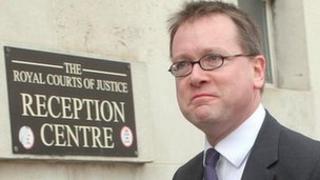 The UK government has made it clear that it was not consulted before the Stormont Attorney General John Larkin intervened in a court case.
The European Human Rights court case dealt with two gay Austrians seeking to adopt a child.
Mr Larkin argued that European regions should be able to opt out of legalising adoption by same sex couples.
The Advocate General for Scotland, Lord Wallace, says the UK government had not approved the terms of the intervention.
In a written answer to the Ulster Unionist peer Lord Laird, Lord Wallace said Mr Larkin's intervention, in a submission to the European court earlier this year, did not represent the views of the UK government, which reserved its right to intervene in the gay adoption case.