Dublin students take European honours
25 September 2012

From the section

Europe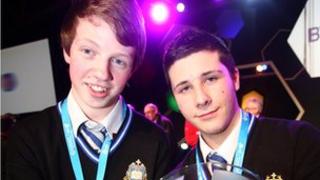 Two school students from Dublin have won joint first prize in a Europe wide contest for young scientists.
Mark James Kelly, 18, and Eric Doyle, 17, won the top award in the physics category.
Their project developed algorithms for a range of applications from satellite placement to predicting network congestion in telecommunications.
The first prize is worth 7,000 euro to the two students.
They represented all of Ireland and beat off intense competition from students from 37 countries, ranging in ages from 14-20.
They will also get an all expenses paid trip to the London International Youth Science Forum.
EU Commissioner for Research, Innovation and Science Maire Geoghegan-Quinn has congratulated the students.
She said their work on simulating how objects respond to gravity in certain environments could have many practical applications, not least in space exploration.