Consolata Melis of Sardinia celebrates 105th birthday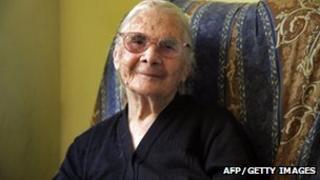 The eldest of a group of Sardinian siblings hailed for their longevity is celebrating her 105th birthday.
Consolata Melis is the eldest of the nine Melis siblings, whose combined age totals over 881 years and 205 days.
Her Mediterranean island home is known for the longevity of its residents, claiming to have 370 centenarians.
Ms Melis, from Perdasdefogu village in south-eastern Sardinia, has nine children, 24 grandchildren and 25 great-grandchildren.
Her three brothers and five sisters are also in good shape, with Claudia, 99, still attending weekly masses and Adolfo, 89, running a local bar.
The youngest Mafalda, 78, is their "baby sister".
The Mediterranean island has long been be the subject of research for the longevity of its residents, and explanations range from genetics to hard work.
Luca Deiana, professor of clinical biochemistry at the University of Sassari in Sardinia, said: "On the one hand it is about genetics, about inherited longevity... but there is also the bounty of the land and the local fruit, particularly pears and prunes."
The researcher, who has studied more than 2,000 people over the age of 100 for the past 15 years, told the Italian newspaper Corriere della Sera that "strong local family traditions" also contributed to the longevity of the Sardinians.