Italy figures show increase in crime amid police cuts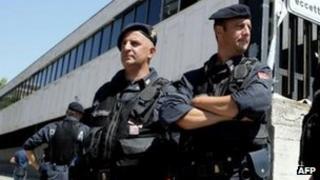 The number of crimes reported to police in Italy went up last year, according to figures released by the country's interior ministry.
There were big increases in burglaries, bag-snatching and shop theft.
The higher crime figures came out after police spending was cut as part of a harsh austerity programme.
Meanwhile, angry protests have been reported against plans to close a court in a crime-ridden part of southern Italy.
The biggest petty crime rise occurred in the Adriatic seaside resort of Rimini, where bag-snatching increased more than 100%.
House burglaries went up by a fifth, reaching a nationwide total of more than 200,000 last year.
Shop thefts increased faster than bank robberies, and the total number of crimes reported to police rose by more than 5%.
Police unions blame spending cuts totalling over $3.5bn (£2.2bn) on police services imposed by successive governments, our correspondent says.
Funeral bells
Under the spending cuts introduced by Italy's government, some 37 courts are due to close, including the one in Lucera, in Foggia province.
But the court sits in one of the most crime-ridden parts of southern Italy, reports the BBC's David Willey in Rome - and local residents have protested angrily.
The local bishop wrote a letter of protest to the president of Italy pleading: "Don't abandon us to the Mafia!" and ordered the muffled bells of his ancient cathedral to toll as at a funeral.
The public prosecutor, who has received death threats from Mafia bosses, angrily published his last will and testament.
At least 20 local mayors have handed in their tricolour mayoral sashes to show that they are ready to resign if the closure goes ahead.
The sashes were given in to Foggia's prefect, along with thousands of electoral cards returned by citizens in protest.
They hope the protest will reach the minister of home affairs who could take the Tribunale di Lucera off the list of those earmarked for closure.