Greece row over MP who hired his daughter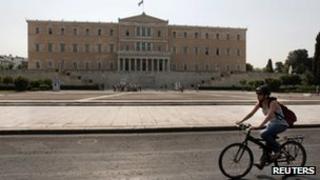 A Greek MP who hired his daughter for a permanent job while serving as parliamentary speaker for a day is facing calls for his resignation.
Vyron Polydoras, of the ruling conservative New Democracy party, held the post between the inconclusive 6 May election and its repeat on 17 June.
Published documents show he made his daughter an employee in his office.
Denying wrongdoing, he said the law had entitled him to appoint six employees and he had chosen just one.
The case has drawn public ire in the cash-strapped country where political parties have been suspected of cronyism in the public sector for decades.
A Facebook page titled "Polydoras's resignation now" had at least 2,200 fans on Thursday, Reuters news agency reports.
The MP himself told Greek newspaper Eleftheros Typos: "I filled the position of just one employee - instead of six - by appointing my daughter who is a close, valuable colleague.
"She has three Master's degrees, speaks four languages and I ask myself why this issue was made public now."
He has also pointed out that his daughter had worked in his office when he served as public order minister and also as deputy speaker.
Writing in Ta Nea, Greek commentator Ilias Kanellis mused: "Vyron Polydoras was house speaker for just one day. Had he stayed one more day, would he have hired his other daughter as well?"